The Digital Disruption to HR
Accenture has predicted a number of digital developments transforming the work of HR in which data and integration will be core of HR processes change, the digital power will enable customized talent management and HR Cloud system will enable new flexibility and agility.
Digital disruption will have significant implications for the business and the HR strategy of an organization. For HR and business leaders, this digital transformation poses two fundamental challenges.
First, HR can help business leaders and employees shift to a digital mind-set, a digital way of managing, organizing, and leading change with data analysis for decision making.
Second, HR has the opportunity to revolutionize the entire employee experience by transforming HR processes, systems, and the HR organization via new digital platforms, apps, clouds and ways of delivering HR services.
Digital HR, which brings together social, mobile, analytics, and cloud (SMAC) technologies, represents a new platform for improving the employee and candidate experience. While vendors are now delivering solutions, companies should build their own integrated digital HR strategies and programs.
This is the new vision for digital HR—integrating SMAC technologies to redefine the employee experience and make work easier, real-time, more productive, and more rewarding—while hopefully, improving work-life balance.
Going to the Cloud - Drivers of the Change in HR system
A number of talent trends are challenging HR to modernize – from the increased use of social media for recruitment, to the rise of the "digital natives" in the workforce and the business demand for predictive people analytics. These are all leading organizations to question how best to meet these needs and expectations through the use of HR technology.
Mercer's recent research investigated HR Technology buying trends and examined the drivers of change, the choice of cloud vs on-premise systems, and the implementation challenges often faced by organizations. Out of the 500 respondents, 43% indicated that they intend to purchase a new HRIS within the next three years and 45% had implemented a new HRIS within the last five years. The predominant driver was the desire for a single system of record for all HR data globally. Moving to a single unified system allows organizations to leverage the latest technology to support service delivery and improve the employee experience. Without standardized technology, it is exceedingly complex (if not impossible) for HR leaders to deliver the workforce optimization support and the quality of service on which the success of their organization relies.
Top 5 Drivers for Replacing an HRIS
FIGURE 4 : DRIVERS FOR DEPLOYING A NEW HRIS
We needed a single system of record for all HR data (66%)

We needed to have reliable, consistent reporting for compliance and legal obligations (55%)

We needed an integrated HR data system to perform workforce analytics (54%)

We needed to standardize HR data across multiple geographies and/or business units (52%)

We needed to move away from a legacy system that was not meeting organizational needs (49%)

We needed to facilitate and support a broader HR operating model optimization/evolution (43%)

We needed to reduce costs (21%)

Our contract was ending (12%)

Our support was ending (10%)

Other (10%)
Planning For Change
A smooth implementation that delivers intended results requires careful preparation. Fifty-six percent used the business case for a new HRIS as motivation to create an overarching HR technology strategy, and others took it one step further to total HR reorganization and process redesign. The most common changes to the HR business model were:
FIGURE 6. HR BUSINESS MODEL CHANGES WITH HRIS INITIATIVES
Implemented or expanded an HR Service Center (49%)

Implemented or expanded an HR Business Partner model (45%)

Implemented or expanded HR centers of Expertise (39%)

Reduced headcount in HRIS team (25%)

Outsourced future HRIS support (13%)
Building An All-Encompassing Digital Platform across the Employee Lifecycle ?
Digital now has a strong impact not just on employee preferences but also the entire lifecycle of an employee in an organisation spanning recruitment, selection, onboarding, performance management, learning development and retirement. It is here that barring a few exceptions, the HR function in most organisations still continues to be stuck in the legacy of traditional modes of engagement, completely oblivious to the quality of the employee experience and the delivery of the employment promise.
Digitise Your HR to Transform Engagement across Employee Lifecycle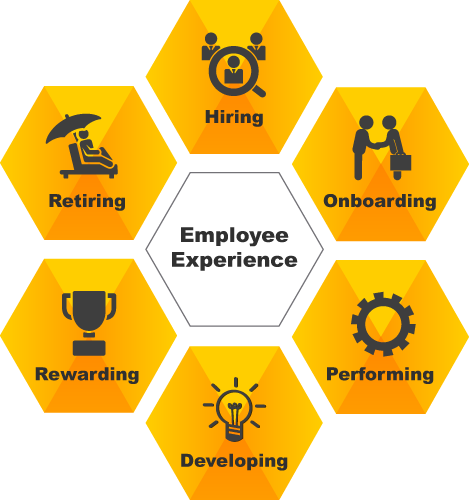 When you create a digital transformation strategy, employee on-boarding often falls to the bottom of the priority list. You want to change the way your company does business, not focus on small details like new hire training. However, ignoring the ways you can optimize this process is a big mistake.
Automation cuts down on the resources required for repetitive and manual tasks associated with bringing in new talent. It also puts an essential foundation in place for your company's future growth. Previous HR onboarding processes required significant hands-on time with each person. While standard procedures are in place, human error introduces inconsistencies with each employee.
Digitisation provides a seamless interface that brings the employer brand and promise alive across the employee lifecycle. Digital through its Social, Mobility, Analytics &Cloud (SMAC) approach is critical for the HR function today.
The effective use of digital platforms can also dramatically improve learning outcomes. Research shows that the use of gamification techniques enable employees to learn more about new management subject areas and the roles they aspire for. It allows them to collaborate online with their peers, get instant feedback and be recognised for their achievements – all the while increasing their visibility as potential leaders.
The Empowerment of HR'S CHANGING ROLE IN THE DIGITAL AGE
HR used to be last in the technology line, but their role in the digital transformation framework puts them at the forefront of the technology evaluation process.
The Human Resources team no longer spends countless hours on administrative work, such as working out schedule conflicts or fixing payroll problems. Technology has changed this frustrating situation for HR. Digitally transformative processes have automated many of these processes or made them more efficient overall. HRs are now in a position to make a significant impact on the long-term health and success of their organization. New technology also eliminates the silos that kept their departments separate thus allowing integrated systems to share data throughout your organization.
Data analysis for Talent Management - HR will behave more like marketing—analyzing employee data, creating customized talent offerings, and marketing and branding talent and HR processes. Data analysis for decision making plays a significant role in this process. HR shift towards marketing-like duties and can see employee performance insights to gain a better understanding of your on-hand talent. The staff progression within the company can be viewed, the projects they work on, reviews, salary and many additional metrics. This information helps HR to find high potential talent and create opportunities designed to make the most out of each person's skills, while still aligning with your organization's overall goals.
TECHNOLOGY EVALUATION - HR used to be last in the technology line, but their role in the digital transformation framework puts them at the forefront of the technology evaluation process. HR will play a bigger role evaluating external technologies, and building interfaces between them and the organization's own data and systems. They look for systems with seamless integration between HR and the rest of the organization. When they have un-siloed access to data throughout the organization, they get the insights required to grow the company strategically. HR also looks for features supporting the long-term growth of your business. Employee retention and recruitment, particularly for competitive roles, are necessary in today's business environment.
CROSS-DEPARTMENTAL COLLABORATION POLICIES
Your company has tried and true policies that have worked for many years, but they don't fit in a highly collaborative environment. Each department has sometimes conflicting rules in place that need to be restructured after a reorganization. HR shifts to consider organization-wide changes to the current procedures. While you face disruption in the short term, you avoid long-term problems, such as two people on the same team being held to completely different department standards.
Social technology, such as team-based chat, enterprise social networks and unified communications tools, play an important role in encouraging collaboration between departments. Your employees need these social options to discover opportunities. HR can work on policies dictating appropriate ways to use this technology and identifying ways to improve the flow of information.
HR is no longer at the tail end of the technology queue. They have access to powerful tools that move them away from administrative paperwork and put them firmly in a position to make long-lasting strategic decisions for the organization. As more companies work through updating their organizational processes to compensate for their digital transformation initiatives, HR's role will continue to evolve and center itself as one of the most important areas of an enterprise
Redesigning the Processes
The digital enterprise and digital HR are a revolutionary leap forward, not an incremental step. Consider the difference between current HR service delivery models and digital HR, illustrated in the following figure , to understand how radical and profound the digital HR transformation will be. Differences between current HR service delivery models and digital HR
Current HR delivery
Digital HR
Transactions and processes
Integrated HR platform (policy, process, systems, operations)
Systems with web browser access
Mobile-first apps
Paper-based forms moved to web forms
Digital design
Process-based design
Human-centered, experience-driven design
SLAs (service level agreements)
Real-time (once and done)
HR (and shared) service centers
Operations centers
Periodic reports
Real-time interactive dashboards
Analytics add-ons
Integrated analytics platform and dashboards
This approach represents a completely new way of thinking about HR solutions. While the replacement of legacy systems into the cloud is a major part of the transition, so is the adoption of design thinking, integrated mobile app design, and real-time HR operations. The principles of behavioral economics, the use of analytics, and constant iteration on design also underpin these efforts. To succeed in this new paradigm, HR teams will likely have to partner with IT, adopt design thinking, use integrated analytics, and analyze vendor solutions carefully. It represents a new world for HR technology and design teams, one that will open up new career opportunities and transform the impact HR has on the business.
WHERE COMPANIES CAN START
Challenge HR to start with a digital-first HR strategy. The digital enterprise and digital HR are a revolutionary leap forward, not an incremental step. The combination of mobile and cloud solutions and the pervasive access to smartphones as powerful as laptops and desktop computers of just a couple of years ago, are redefining how HR processes are designed, delivered, accessed, and operated. The shift to a mobile and platform way of thinking is at the forefront of this challenge.
Embrace design thinking. Social, mobile, analytics, and cloud tools are only useful if employees adopt them. HR must begin with employee needs and the user experience. Incorporating design thinking throughout the process will help companies maximize the impact of new digital technologies.
Leverage an agile approach integrating HR, technology, employees, and business leaders in the process. HR has the opportunity to use agile development—rapid development by integrated teams delivering prototypes and solutions in successive releases and waves—as a new way of operating in HR and supporting similar programs across the company. Unlike the traditional waterfall development process, agile development requires HR specialists, system and app developers, designers, employees, and business leaders to work together as a team.
Share digital strategies and experiences across the company: HR has the opportunity to learn from early digital adopters in the company, generally customer marketing and operations. A community of practice can share digital experiences and implementation learning across the company. HR can learn from the digital savvy across the company and, in turn, help develop the enterprise's digital mind-set and capabilities.
Imagine HR and the employee experience in real time: One of the biggest changes in moving to a digital HR strategy is the focus on real-time access, decision-making, and results. This involves a significant step beyond many recent HR efforts, which have focused on shared services and HR service centers and SLAs (service level agreements). Digital HR is also a call to automate many areas of HR. With every employee having a smartphone, HR teams can automate, streamline, and adopt more real-time and digital-first operations rather than process forms and transactions.
Integrate analytics and reporting as part of the digital platform, not an add-on: Most HR teams today have dedicated teams that collect information from process and transaction systems for basic HR reports and analysis. Instead, HR management information should be an automated part of the HR digital platform. It should provide managers with real-time information and leaders with real-time analysis, decreasing the time spent on reports and increasing the time HR and business leaders spend on analyzing data and solving problems. Analytics and reports can be configured and integrated into a business intelligence layer of the HR platform, linking apps directly to leadership reports and analysis.
BOTTOM LINE HR's digital transformation begins with a change of mind-set within the HR organization, prioritizing connectivity, real-time operations, platforms, automation, and mobile-first. For many organizations, both in HR and across the enterprise, this is a revolutionary opportunity. The digital HR journey focusing on the employee and HR experience is one part of the larger digital HR challenge: to answer the question, "How can HR play a role in developing the overall digital enterprise strategy, organization, and culture?"